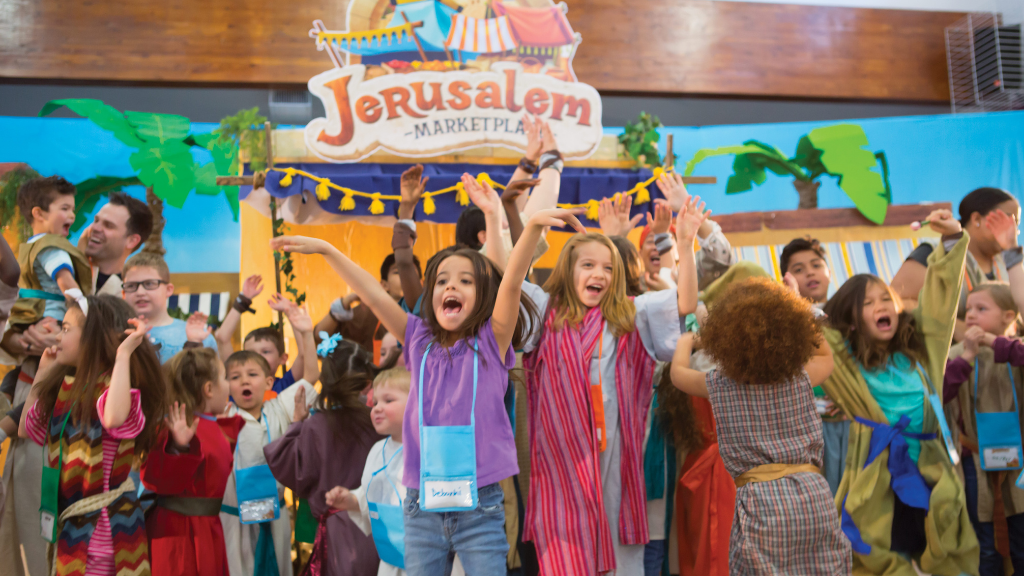 Time travel has been the theme of books and movies for decades. Now it's come to your church! This summer, you can take kids back in history to explore a Bible-times Jerusalem Marketplace. They'll try ancient traditions, sample snacks from market shops, and play games enjoyed by kids back in Jesus' day. Plus, kids hear the buzz from "citizens" who wonder about this teacher named Jesus.
But will today's media-savvy, screen-centric kids like a week of low- (or no) tech Bible-times fun?
Check out these four reasons Jerusalem Marketplace will get a resounding "Yes!" from the kids at your church! (Plus, you'll find one reason you'll be coming back for more HolyLand Adventures in future!)
Jerusalem Marketplace taps into kids' imaginations.
Even though today's movies and games feature dazzlingly realistic graphics, kids still have larger-than-life imaginations. Kids love to role play, imagine, and make up stories. Just walk the toy aisle at any store and you'll likely see props and costumes designed to help kids (even elementary kids) immerse in imaginative play. Many schools embrace the role-play model, having elementary kids dress up as historical figures for a "wax museum" where kids teach history! What a fresh, exciting approach to bring this experience to church. At Jerusalem Marketplace, kids get to imagine what it was like to live in Jerusalem during Jesus' ministry. Even if they're not in costume, everyone around them will be! Plus, the Bible-times decorations create a setting that stirs their imaginations in big ways.
Jerusalem Marketplace brings the Bible to life.
"Bringing something to life" may feel overused and almost cliché. But a week at this VBS really puts flesh-and-blood on Bible stories kids may have heard before. Rather than just hearing about Jesus washing the feet of his followers, kids experience the emotion of having their feet washed. Instead of simply reading about Jesus' last supper with his friends, a "rabbi" lets kids taste what that special dinner might have been like. A key ingredient each day is emotion. As children's ministry leaders, we often get wrapped up in teaching the facts and details of Scripture, rather than helping kids explore the deep feelings, reactions, and questions of the people involved. And emotion makes learning stick. Emotion breathes life into the words on a page, making them real. After exploring or even experiencing those emotions, words on a page (or even pictures in a story Bible) will have deeper meaning—they matter.
Plus, kids will be learning a bit of Old Testament Jewish culture. As they join one of the Tribes of Israel, kids automatically get a bit of "big picture" Bible perspective. Daily sessions in the Synagogue School help bridge the story of God's chosen people to their need (and our need) for a Savior. Tribe Time creates further connects from Jesus' time to modern times. Instead of hammering home timelines and Scripture memory, kids live the story of the redemption provided by God's Son, Jesus.
Jerusalem Marketplace empowers kids to choose.
When we give kids choice, they get to play a role in their discoveries. That's why we've kept each day's marketplace time 20 minutes of free-flow, free-choice exploration. Would you rather craft a dreidel with the carpenter or make scented oil in the herbs and spice shop? Would you like to weave a matzoh cover or sculpt a coil pot today? Each day allows kids choices between a few things they'd like to do. These opportunities to show autonomy may seem small, but you're providing kids with a sense of control every single day. In a world of hyper-programmed kids and helicopter parents, free choice isn't something kids often get!
Jerusalem Marketplace welcomes hard questions.
In his day, Jesus was a controversial guy. He questioned and confronted religious leaders. He spent time with tax collectors and "sinners." He healed on the Sabbath and spoke to people of dubious reputation. As a result, crowds followed…and plenty of people had questions. Some people doubted Jesus. Some people wondered if he was the real deal. Others heard his teachings and embraced him as a wise teacher. As marketplace shopkeepers interact with kids, they'll express their questions or ideas about Jesus to kids. This gives kids a chance to verbalize their faith and share what they know (or even what they wonder) about Jesus. Kids may be quietly tuning in, as they hear questions about Jesus that mirror their own. There's even a "Wise One" who roams the marketplace to share the truth with those who don't believe.
Welcoming kids' thoughts and questions creates an environment of trust…and truth. It encourages meaningful, two-way dialogue. It allows small group leaders to better understand where each child is at in his or her faith. That, in turn, makes small group time deeper and more meaningful. When adults welcome questions, instead of shutting them down, kids feel valued.
Jerusalem Marketplace lays a foundation for a lifelong faith.
This is the part you'll love! Kids discover that the Bible isn't just a storybook—it's a book filled with real people, real emotion, real miracles, and a God who really loves them. Think of this discovery as an introduction to Jesus. Throughout the week, as kids make powerful life-application connections, they're creating a foundation that will strengthen that relationship with Christ. Kids begin to see what faith looks like in everyday life. Talking about Jesus becomes natural. Jesus' world feels real and meaningful—not dusty and distant. The Bible doesn't seem like a history book anymore. One week can breathe life into faith…and that life can take root and grow for a lifetime!
This summer, your VBS can be so much more than a week of fun and games. You can give kids a glimpse into Jesus' world and the people he impacted then…and now. Time travel doesn't have to be the thing of fiction and film. You can make a lifelong difference in kids' lives by turning back time and exploring a Jerusalem Marketplace.
Ready to start planning your one-of-a-kind Bible-Times VBS?
Jerusalem Marketplace Starter Kits
Start your journey with the Starter Kit of your choice! Each kit is jam-packed with resources to help you plan, prepare and pull off the most memorable event of the summer!
Jerusalem Marketplace VBS Starter Kits
You CAN do it! And we're here to help! Group offers a complete children's ministry hub of resources you need…especially when it comes to VBS! Best of all, we're always here to help. Call us with any ministry-related problem, and we'll help you find a solution. Call our experienced and helpful support team at 1-800-447-1070.